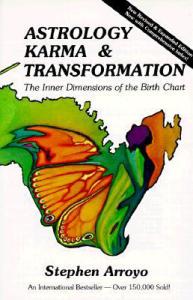 In my earliest days of studying astrology, the first book that truly inspired me was Astrology, Karma & Transformation: Inner Dimensions of the Birth Chart by American astrologer Stephen Arroyo. It's a book of tremendous depth and insight, written in clear and simple language, and it opened up the whole spiritual and psychological dimension of astrology for me.  As soon as I could, I also obtained a copy of his previous work, Astrology, Psychology and the Four Elements.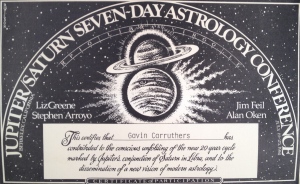 When I heard about the Jupiter/Saturn astrology conference planned for July 1981 in Berkeley, California, I knew that I simply had to travel from my native Scotland to attend. The conference featured just three astrologers over its seven days: Stephen Arroyo, Liz Greene (an author whose writings had also inspired me), and Alan Oken, who happened to write the first astrology book that I ever bought.  I spent a wonderful week in Berkeley and San Francisco, soaking up all the astrology that I could, but what was originally planned as a three week holiday ended up becoming a 32 year stay!  Looking back it is astonishing to realise how much the simple choice to attend the conference ended up changing the entire direction of my life.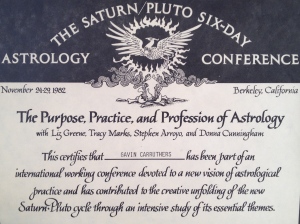 In the remainder of the 1980's, Stephen Arroyo and CRCS Publications put on several other high-quality conferences, including the extraordinary Saturn/Pluto event in 1982.  At each one I was invited to be a part of the conference staff, helping out in the book-room and meeting dozens of wonderful people, including Jim Lewis, Donna Cunningham, Tracy Marks, Dennis Elwell and Richard Idemon.  In the years that followed I have eagerly devoured every new book that Stephen has written, and they have all helped shape my approach to working with and communicating the astrological language with others.
Stephen Arroyo is the author of at least 9 high-quality books on astrology, starting with his ground-breaking Astrology, Psychology & The Four Elements in 1975.  His works also include explorations of astrology and relationships, the planet Jupiter, the profession of astrology and a chart interpretation handbook that is excellent for beginners.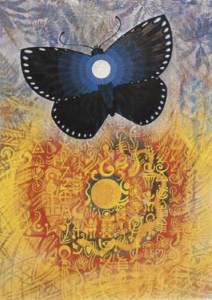 In 2012 he published his latest, and possibly final book on astrology, this time an ebook entitled Experiments & Experience with Astrology: Reflections on Methods & Meaning.  Like all his previous works this one is full of his penetrating insights and the clear language that has made many of his earlier works into classics. Reading it this past week I have been struck by how much I am in agreement with Stephen Arroyo as he discusses his philosophy on astrology, and how much my own years of working in the field have led me to many of the same conclusions. For example, as a teacher I have always emphasized the importance of keeping things simple, and not overwhelming my clients with too many techniques and too much complexity.  In the chapter "Methods of Chart Synthesis", Arroyo writes:
"I maintain, rather than helping us to achieve chart synthesis and thus a meaningful evaluation of the person's major life themes, putting too many factors in a chart makes it harder to discriminate between the significant themes and the peripheral details………my view is that one should use a minimum of major, reliable factors in order to see a client and his or her situation clearly. Otherwise you'll project confusion, not order, to the client."
There's also no question that many years of sharing astrology with other people and listening to their life experiences has deepened my ability to see another person's reality clearly.
"I have to emphasize that there is no substitute for an intuitive grasp of the whole chart, which is to say, an intuitive grasp of the whole person. This can only be developed over time, from a great deal of experience with lots of people and lots of charts. No matter how many measurements you use, this intuitive apprehension of the totality of a chart and person can come only from time and experience."
Experiments & Experience with Astrology is also full of good information on the ascendant, transits, subtones, counseling with astrology, and includes an in-depth interview with Stephen Arroyo, originally published in the Mountain Astrologer.  I also really enjoyed the chapter "Current Psychological Theory in Relation To Astrology", from which I have extracted the following quotes.
"To "sort out the motivations" involved in various intimate struggles is precisely one of astrology's greatest uses. It is especially in the area of motivation that astrology is such a powerful tool. No other method, technique, or theory can touch it. There are all kinds of tests, personality inventory tests, motivational tests, vocational aptitude tests available, but none of them get so quickly to the essence of individual motivations as does astrology."

"When in the hands of an experienced, competent practitioner who has some mental and ego discipline, one who is not trying to prove himself or to prove that astrology works or to impress the client with sensationalistic predictions, when in the hands of such a person, astrology works almost unerringly as a tool for understanding individual psychology and motivations, person-to-person experiences, and many periods of change or crisis.  I have absolutely no doubt about that; it works if you understand this great science."
I highly recommend this book to anyone using astrology in their work with others, or to those wishing to deepen their knowledge of the modern astrological language.  The same goes for any of Stephen Arroyo's previous publications, which I have listed below.  You can purchase the ebook, as well as the other titles from several places, including amazon.com and iTunes, and also from kobobooks.com.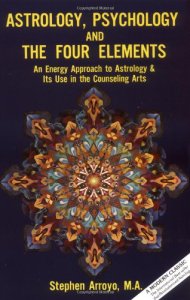 Astrology Psychology & The Four Elements: An Energy Approach to Astrology & It's Use in the Counseling Arts (1975)
Astrology Karma & Transformation: The Inner Dimensions of the Birth Chart (1978)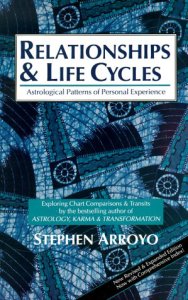 Relationships & Life Cycles: Astrological Patterns of Personal Experience (1979)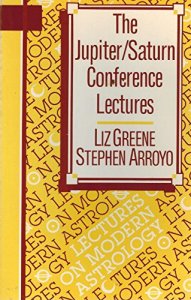 The Jupiter/Saturn Conference Lectures (with Liz Greene) (1984)
New Insights In Modern Astrology (with Liz Greene) (a revised version of Jupiter/Saturn lectures)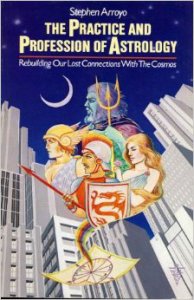 The Practice & Profession Of Astrology: Rebuilding Our Lost Connections with the Cosmos (1984)
Practicing The Cosmic Science: Key Insights In Modern Astrology (a revised version of Practice & Profession)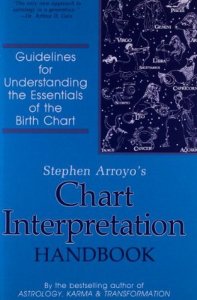 Stephen Arroyo's Chart Interpretation Handbook: Guidelines For Understanding the Essentials of the Birth Chart (1989)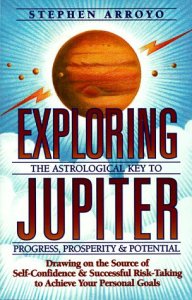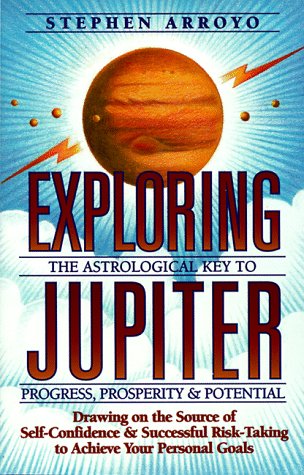 Exploring Jupiter: The Astrological Key to Progress, Prosperity & Potential (1996)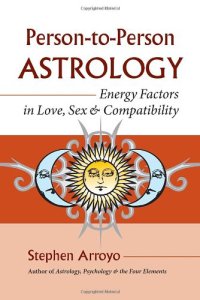 Person To Person Astrology: Energy Factors in Love, Sex & Compatibility (2007)
Experiments & Experience with Astrology: Reflections on Methods & Meaning (2012 ebook)